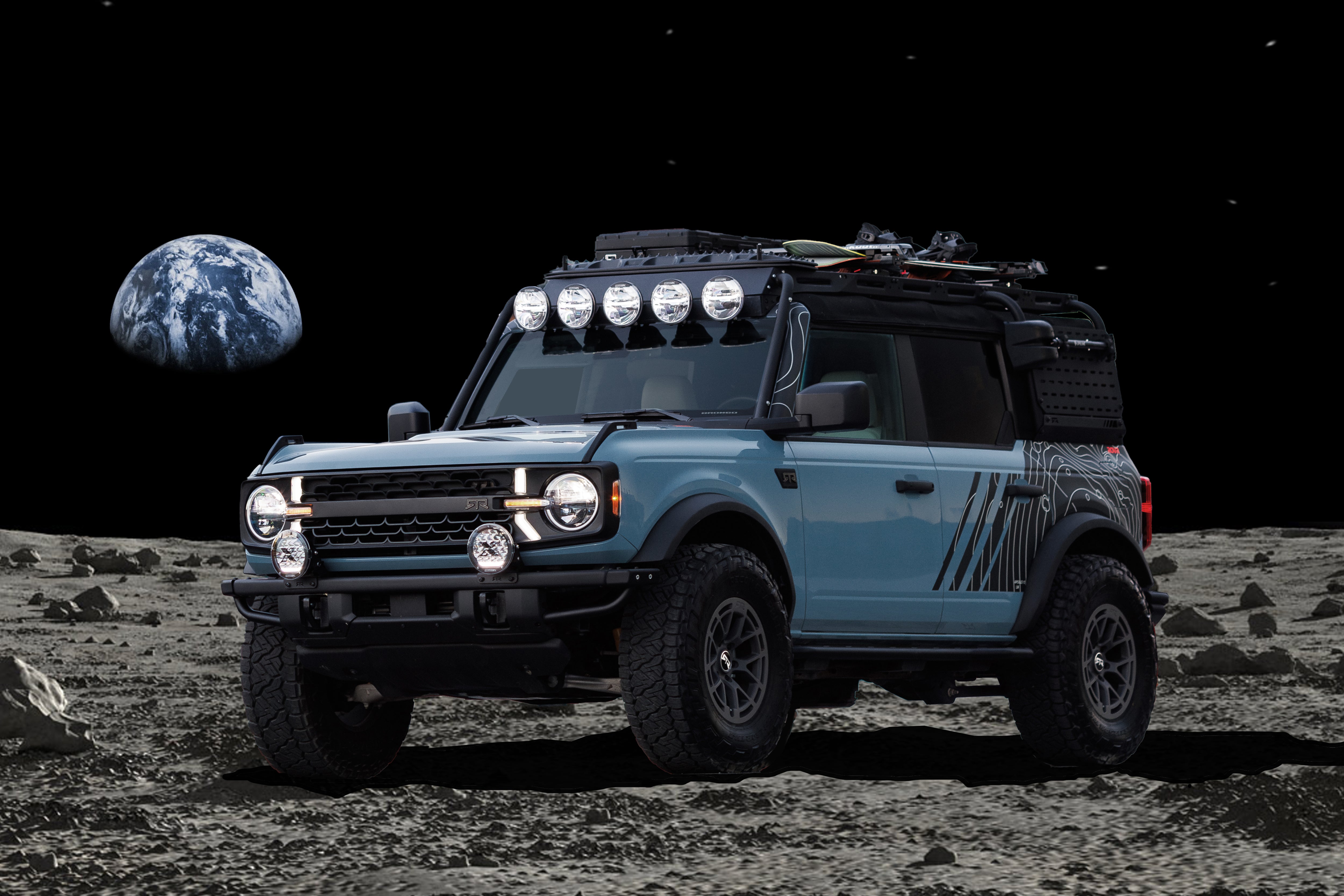 Starting at $18,995*
2023 Bronco RTR ROVR
The spirit of adventure is rekindled with the unveiling of the Bronco RTR ROVR. ROVR is a manifestation of our relentless pursuit to offer a holistic package geared toward those who seek adventure. 
The Bronco RTR ROVR isn't just a vehicle package; it's a statement that resonates with outdoor enthusiasts who crave the unknown. Building upon the legacy of the Bronco RTR, the ROVR package is a canvas of self-expression for the modern adventurer, offering an all-encompassing suite of features that not only tackle any off-road challenge but invite them. Continue reading to learn more about the all-new Bronco RTR ROVR. 
2023 Bronco RTR ROVR Components List
Priced at $18,995 in addition to base vehicle cost (excluding labor), the Bronco RTR ROVR is set to be available in Q1 of 2024. An exciting new journey could be just a click away! Fill out the form below to contact an RTR Customer Service Representative. Vehicle packages are available through our Authorized RTR Dealer Network or we can build it for you at the RTR Lab through our Built by RTR Program.
Exterior
RTR Grille w/ LED Lighting & Modular Center Bar
RTR Roof Rack w/ (2) Molle Accessory Side Panels
RTR Tubular Front Bumper End Caps
RTR Rock Sliders
RTR Rear Bumper
RTR Spare Tire Carrier
RTR Rear Molle Accessory Plate
RTR Adjustable Tailgate Stop
RTR ROVR Graphics
RTR Lightbar with (5) Project X HP.70 Lights
Bronco RTR High-Clearance Exhaust
Bronco RTR Spacer Lift (Non-Sasquatch Model Required)
Interior
RTR All-Weather Floor Liners 
RTR All-Weather Rear Cargo Liner
RTR Key Fob Clamshell
Certificate of Authenticity
3 Year / 36,000 Mile Warranty (from In-Service Date)
Wheels & Tires
(5) 17x9 RTR Tech 6 Wheels (Satin Black or Satin Charcoal)(+0 or +30 offset)
(5) Nitto Recon Grappler 12.5x35R17
Lug Nuts and TPMS
Build your own
2023 Bronco RTR ROVR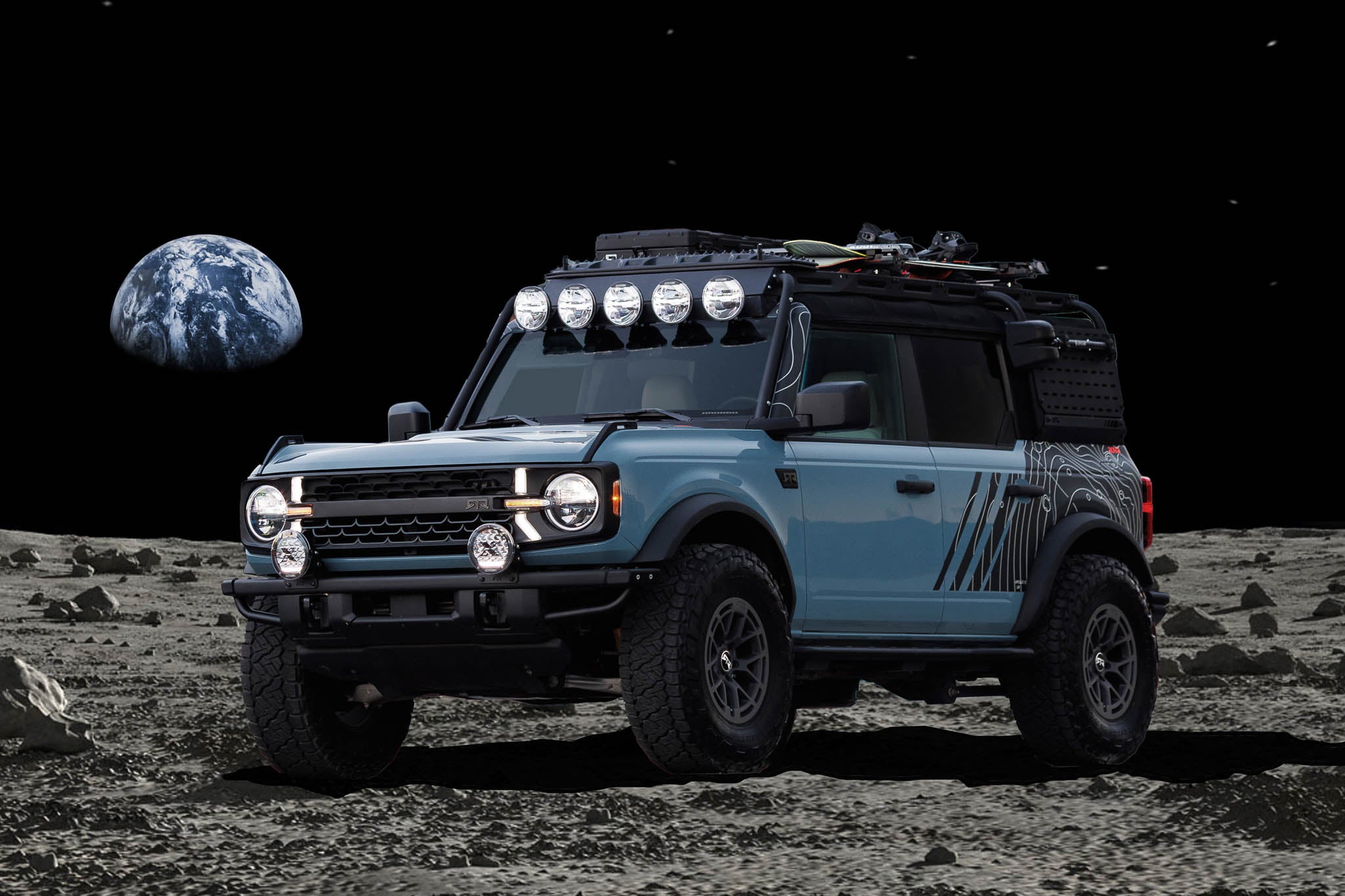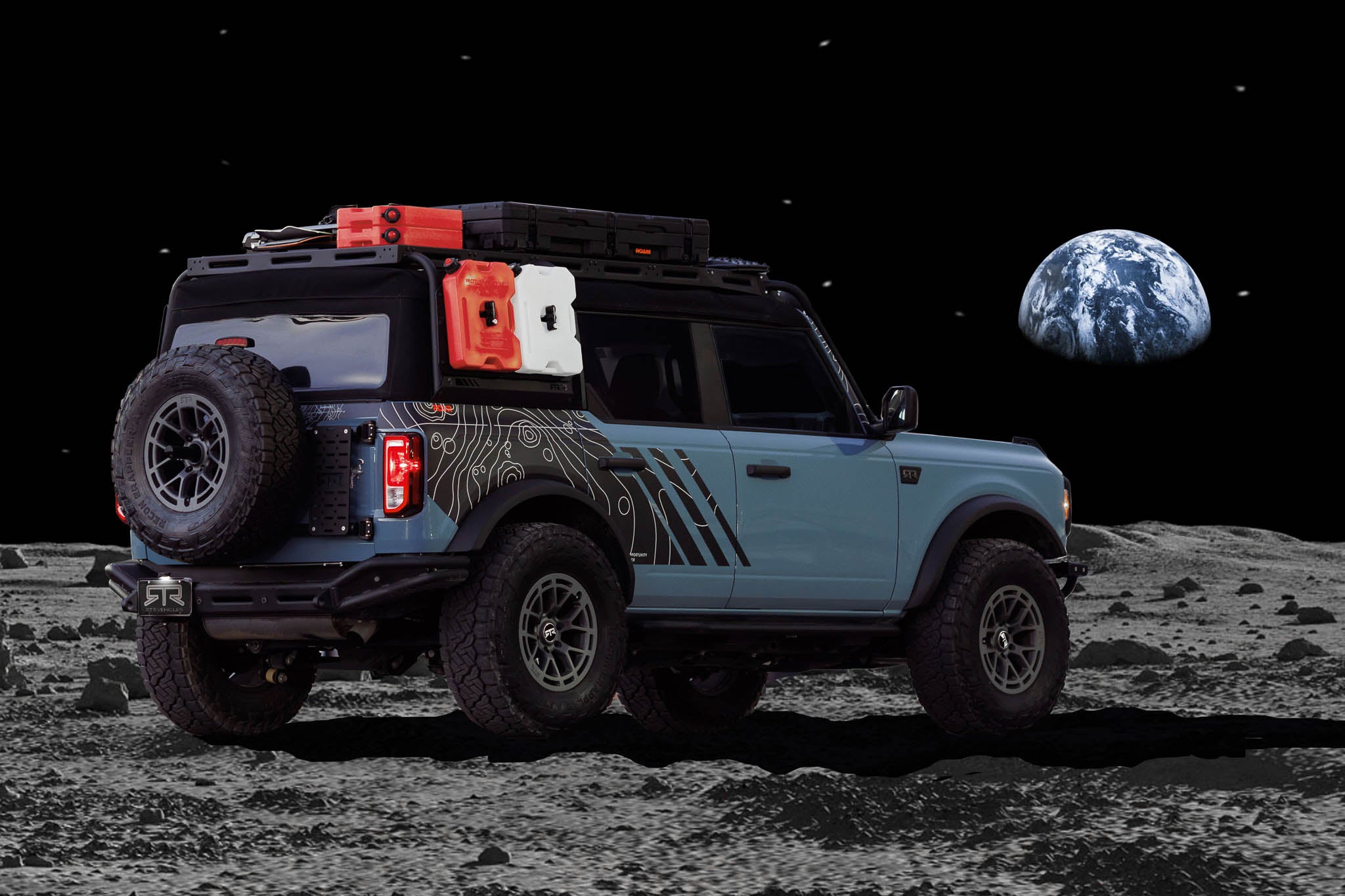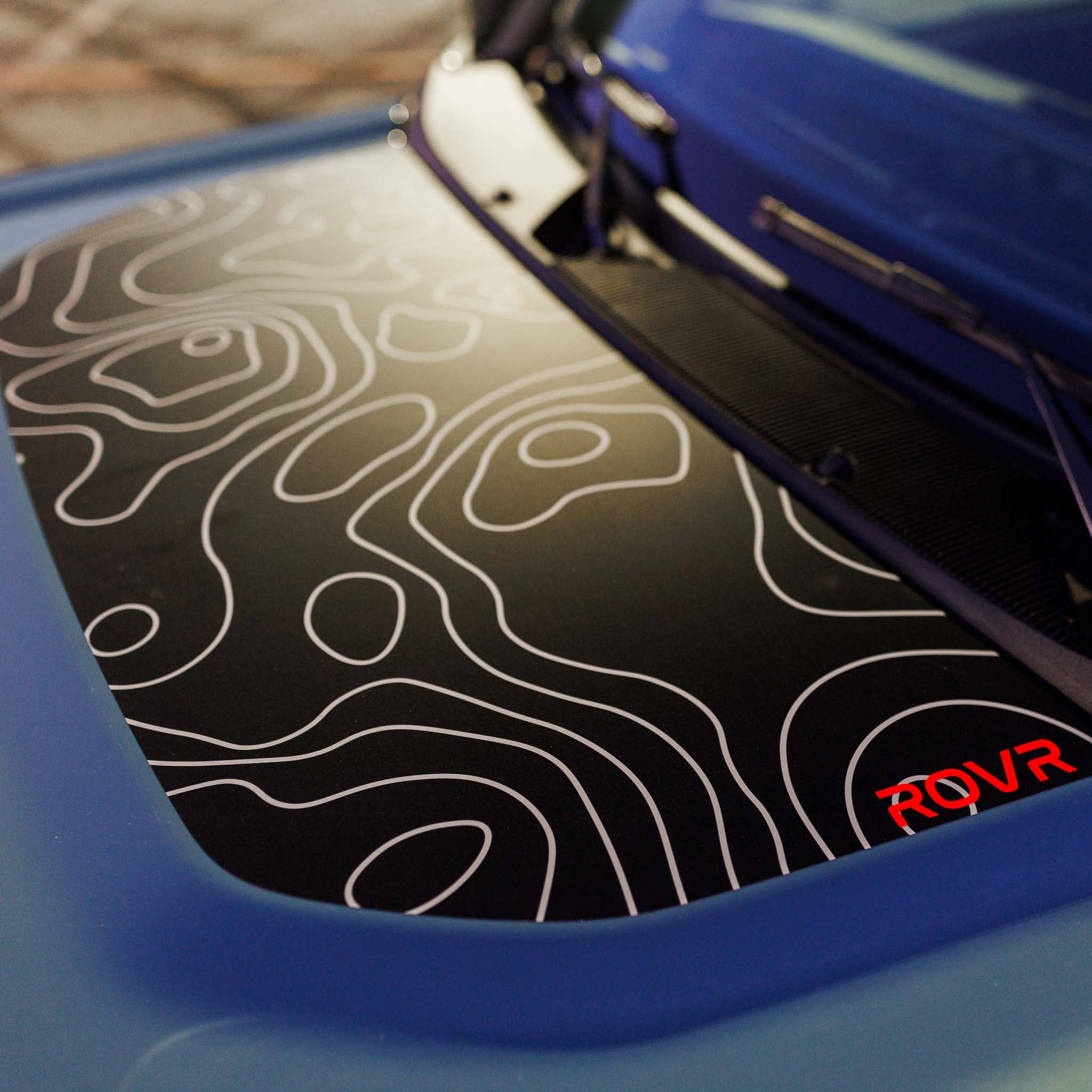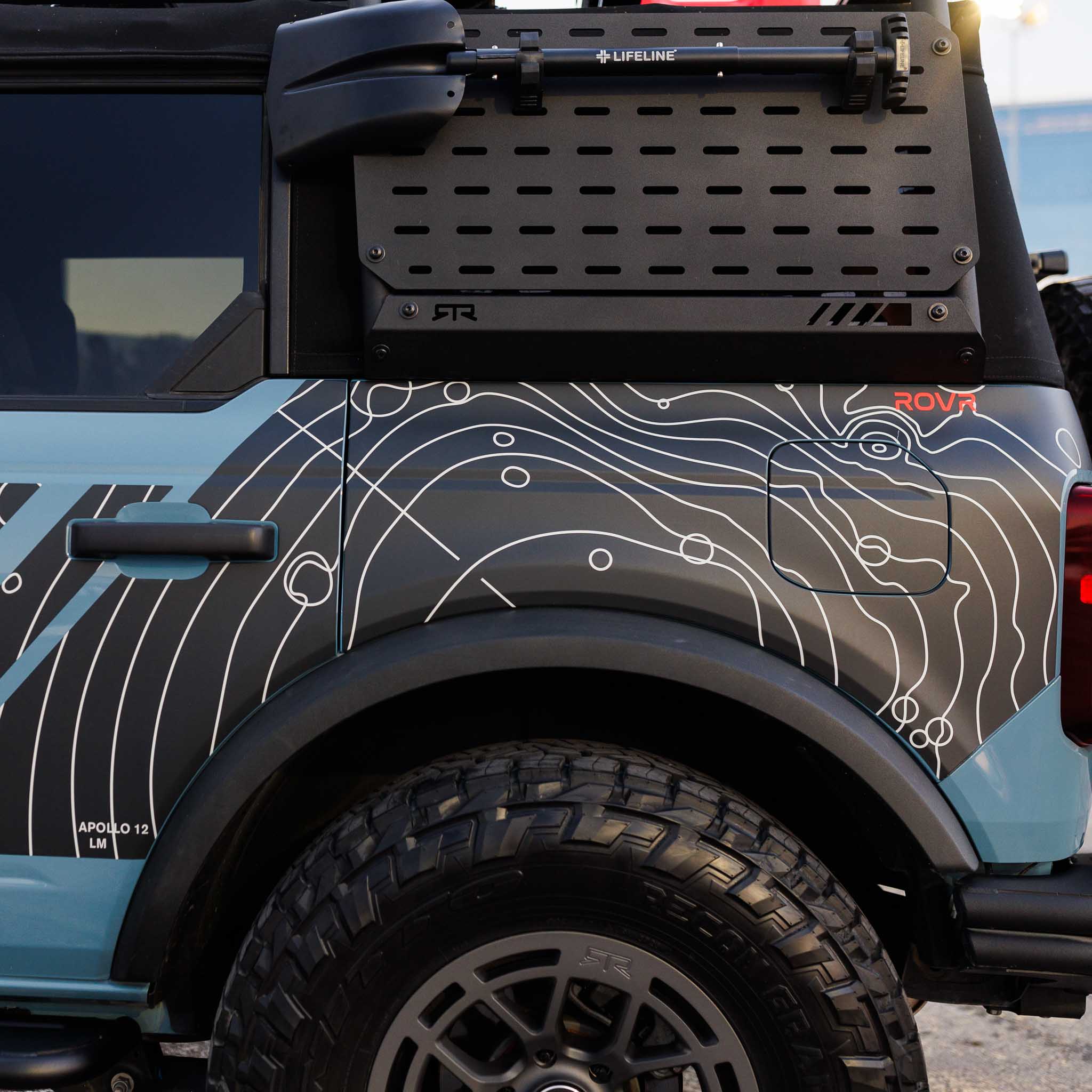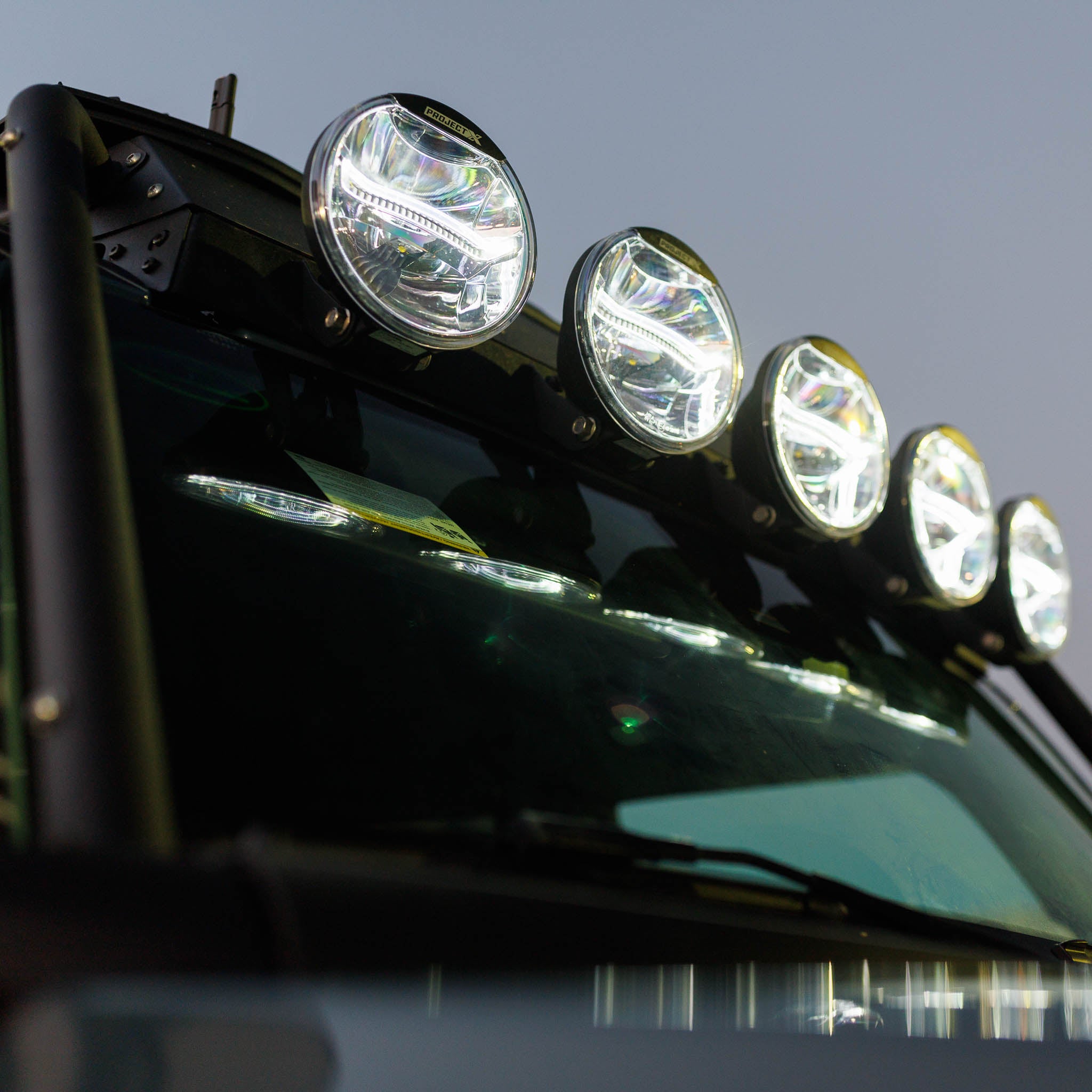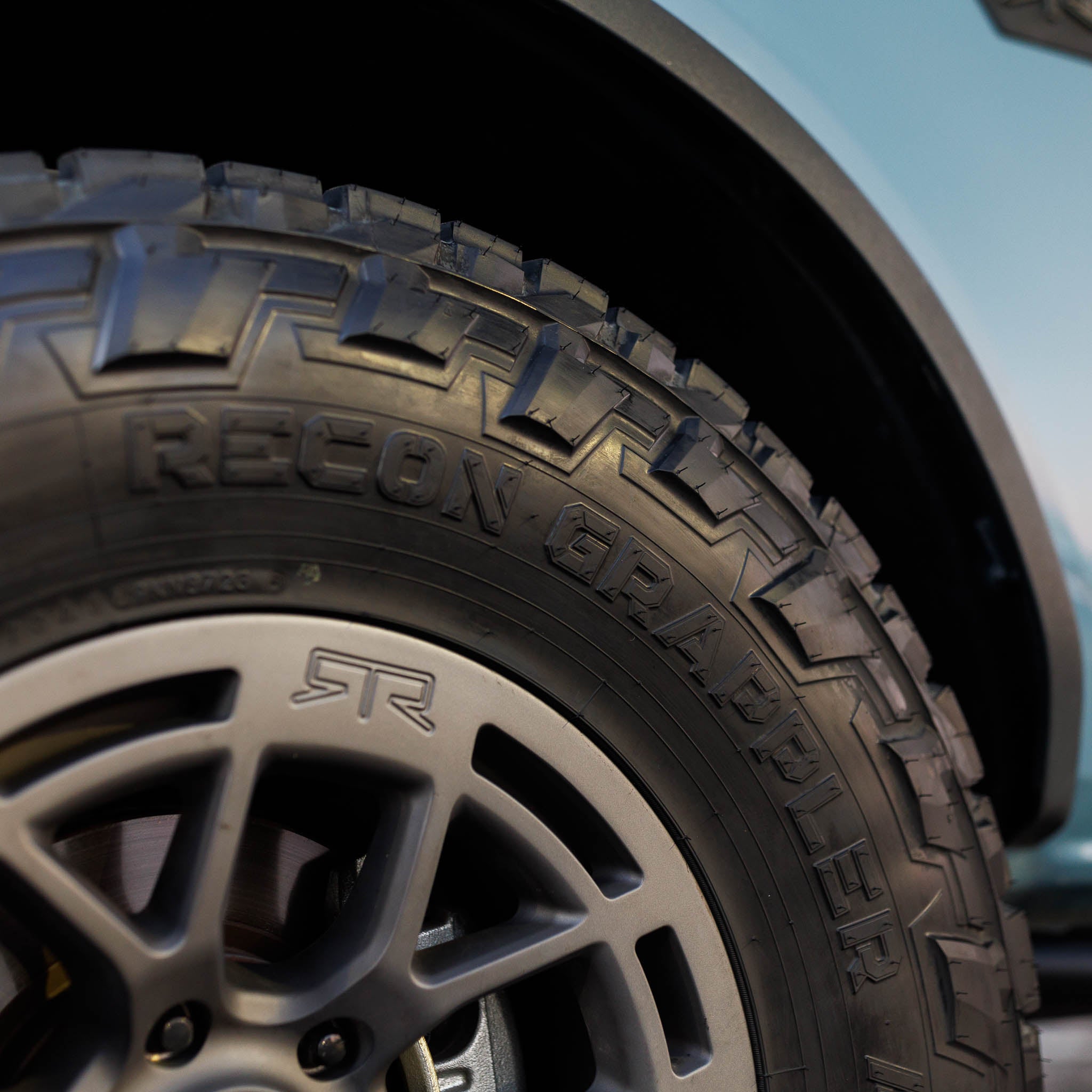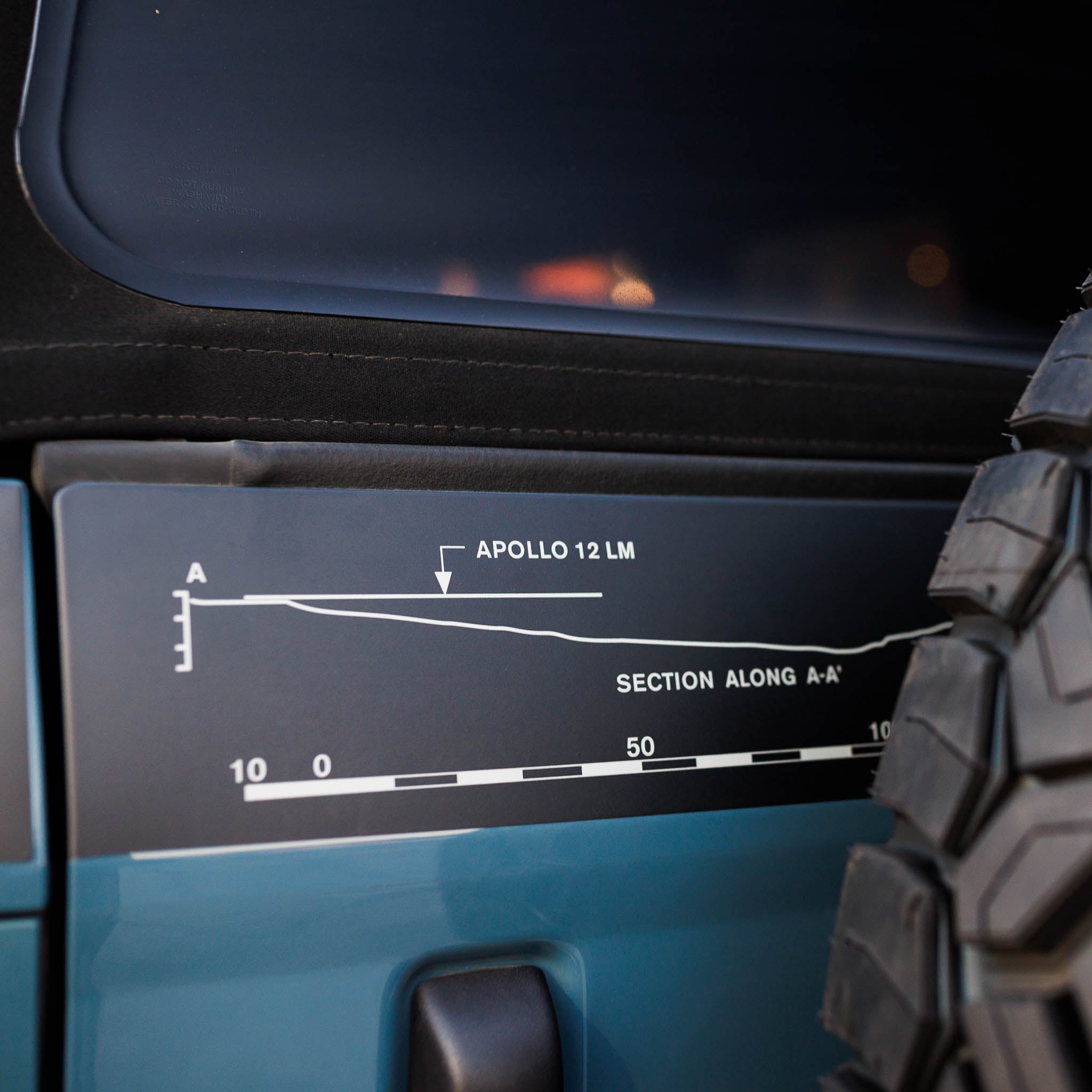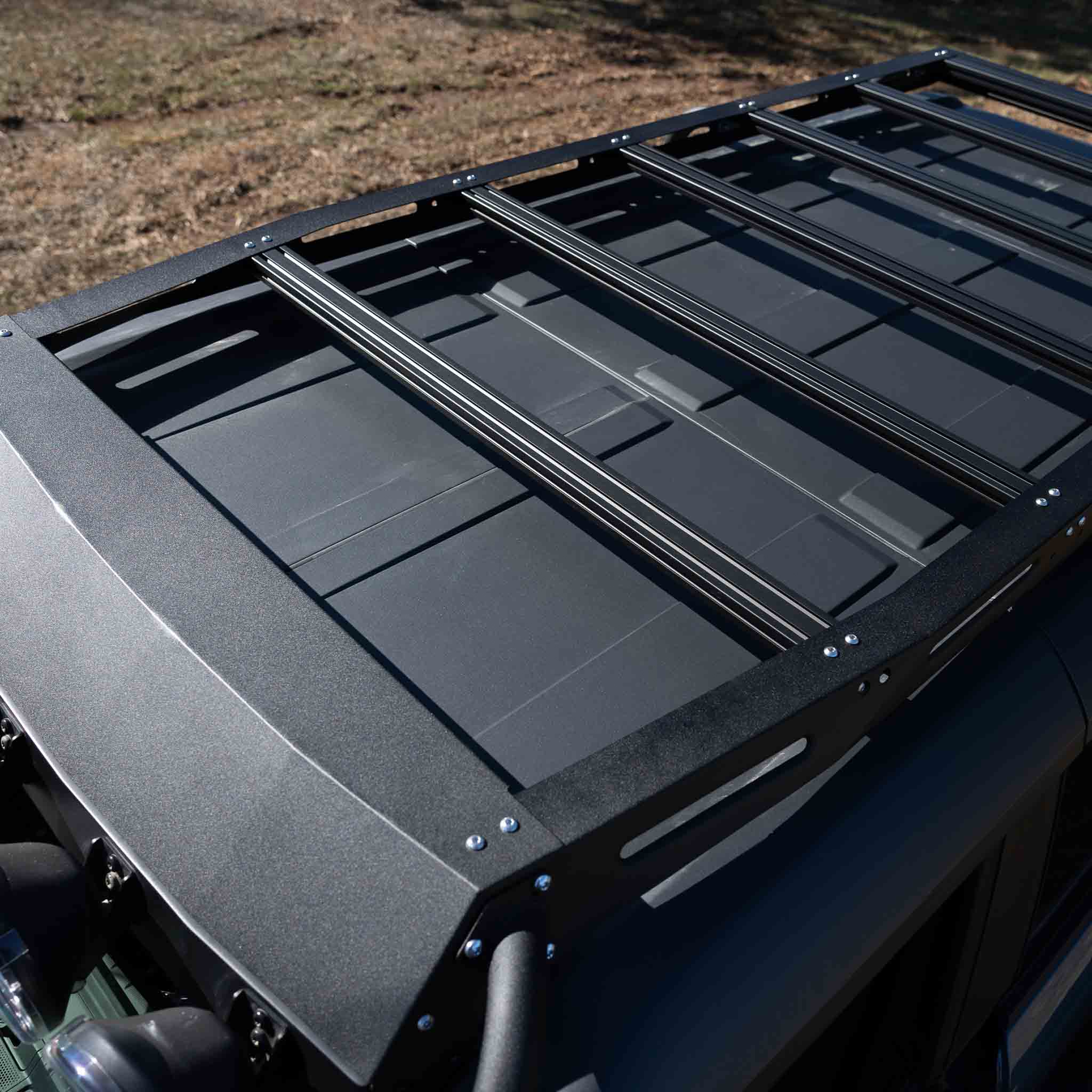 Design Meets Functionality
At the core of the Bronco RTR ROVR lies the innovative RTR Roof Rack w/ Molle Accessory Side Panels, that blends off-road capability and versatility. The RTR Roof Rack w/ Molle Accessory Side Panels was designed to seamlessly integrate with any 4-door Bronco equipped with a hardtop or soft top. It also utilizes factory mounting points to ensure rigidity and durability. The Roof Rack is constructed from ⅛-inch-thick tubular steel and 30mmx60mm heavy-duty aluminum T-slot crossbars. The tubular steel is finished with black powder coat and the T-slot cross bars are anodized black. With all of this, the overall height is only increased by 3.625 inches.
Large Molle Accessory Side Panels flank each side of the RTR Roof Rack and feature numerous mounting locations for all the necessary accessories for your next adventure. Combined with the RTR Roof Racks integrated T-slot crossbars you can add rooftop tents, cargo boxes, or recreational outdoor equipment.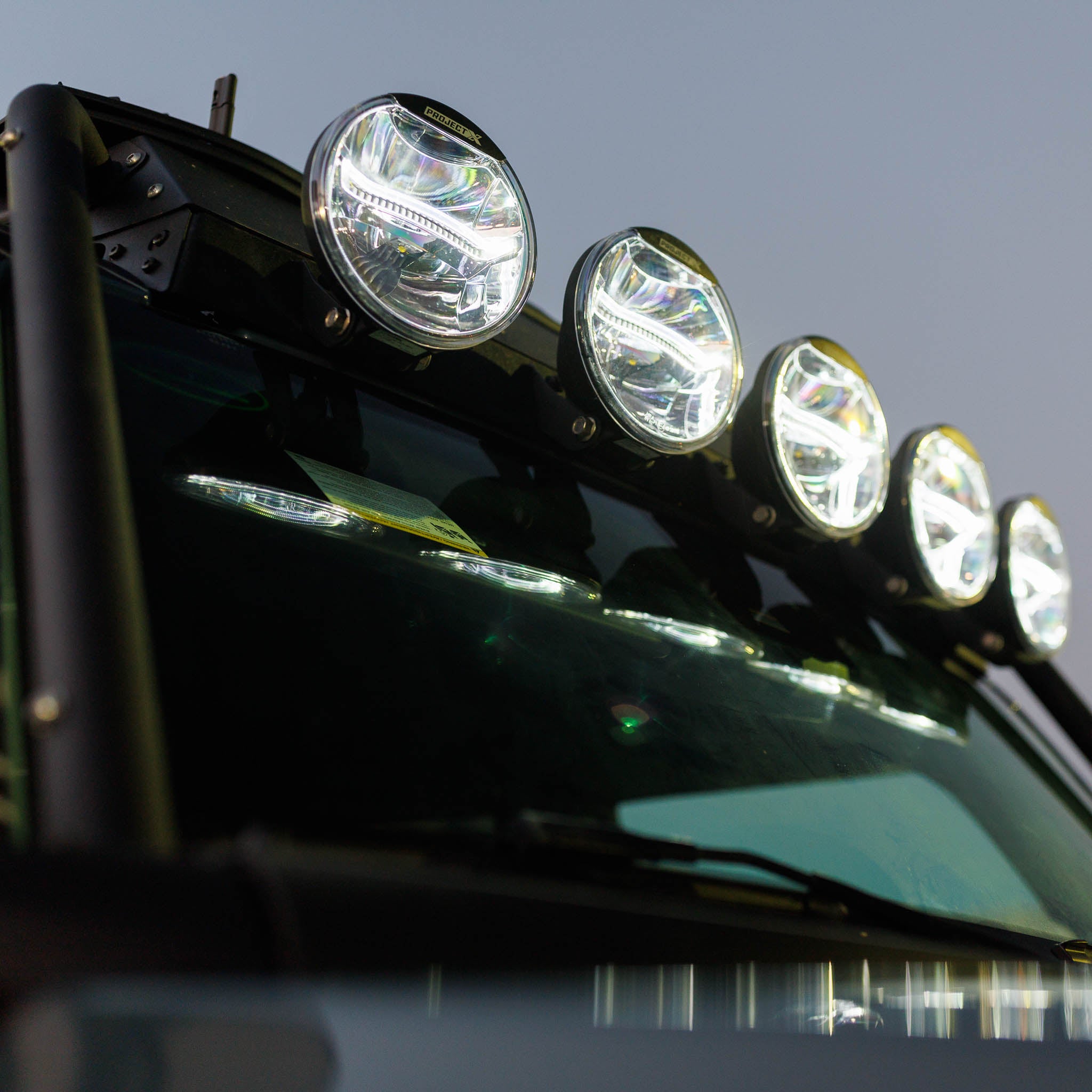 RTR Lightbar w/ PROJECT X Lighting
As the sun dips below the horizon, the PROJECT X equipped ROVR takes the spotlight. Not only does the RTR Lightbar provide light when it's needed but it is an integral part of the RTR Roof Rack's structure. The lightbar provides a mounting point that seamlessly integrates into the roof rack without adding additional mounting points.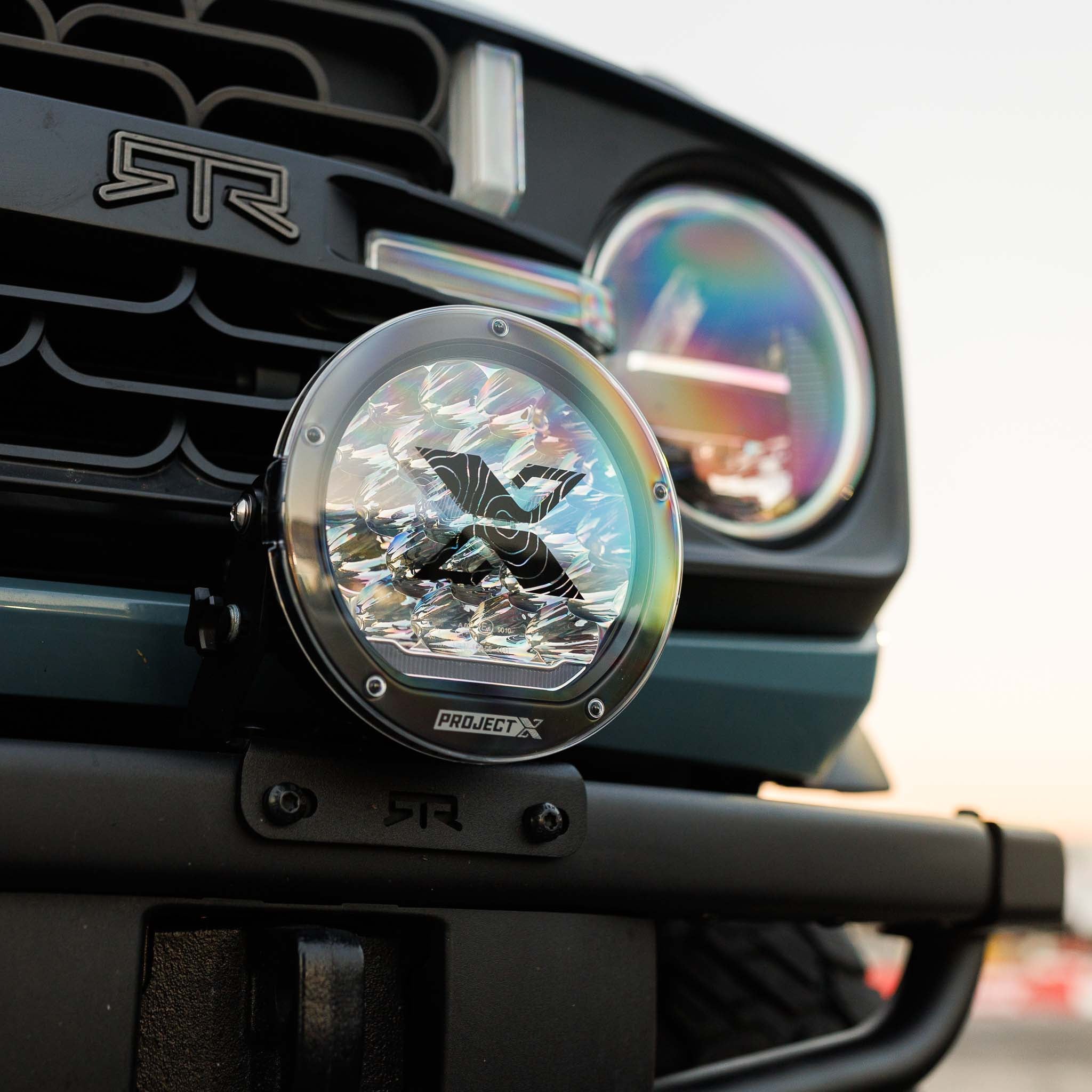 FRONT BUMPER MOUNTED PROJECT X LIGHTING
The front bumper-mounted PROJECT X HP.70 lights makes sure the Bronco RTR ROVR is equipped for the challenges ahead and ensures your path is always lit while on the trails.
Navigate Your Next Adventure with Confidence
No adventure is without its obstacles, the Bronco RTR ROVR is well equipped with components that will turn those obstacles into stepping stones. RTR components, such as the RTR Spare Tire Carrier, RTR Rock Sliders, and RTR Rear Bumper further enhance Bronco RTR ROVR's off-road capabilities.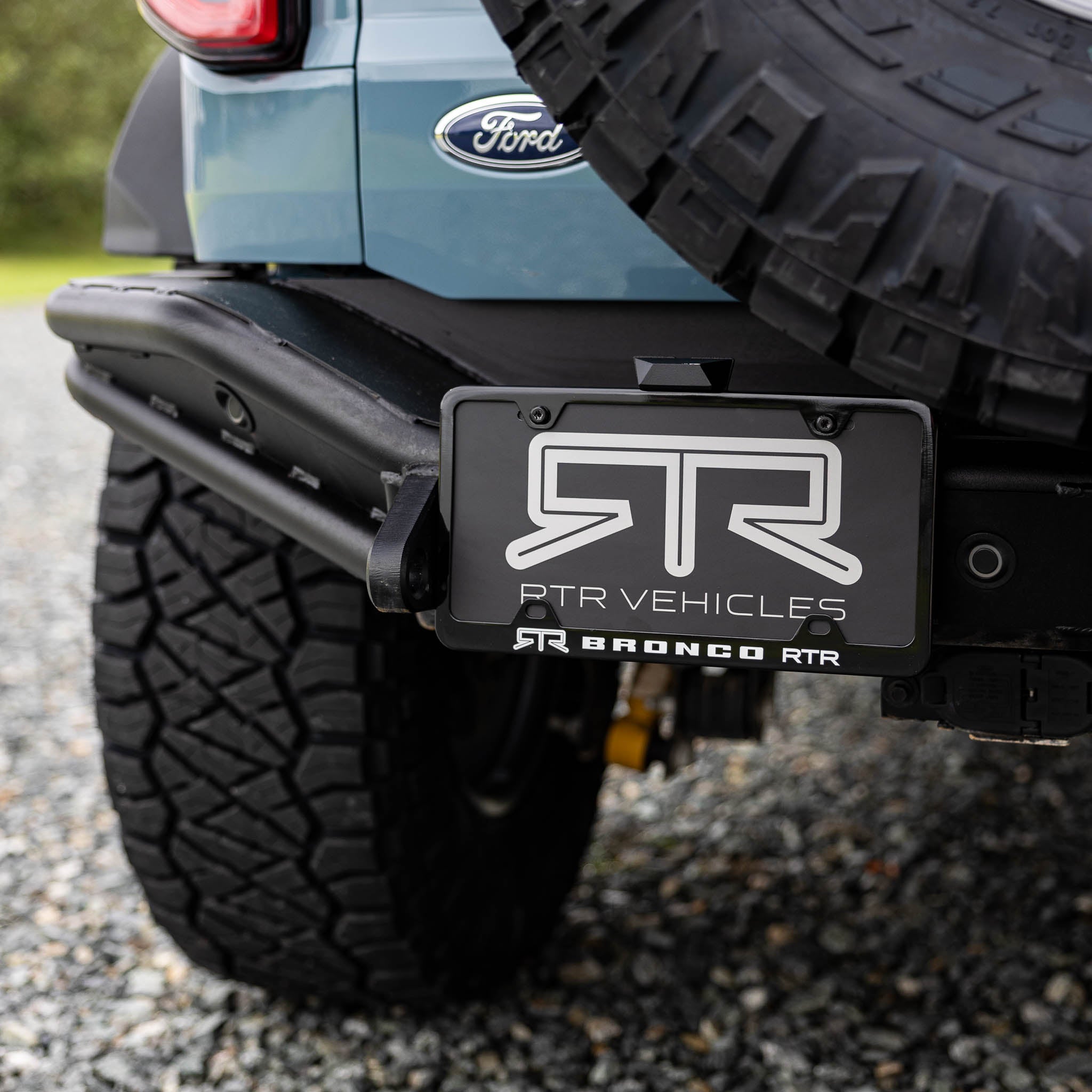 RTR Rear Bumper
The RTR Rear Bumper allows for greater departure angles while you're on the trails. It is constructed from 1.75-inch DOM (Drawn-over-mandrel) steel tubing that can withstand even the most demanding trails. The RTR Rear Bumper also includes welded D-ring shackle mounts, and a removable license plate holder, and is compatible with the OEM parking sensors and hitch.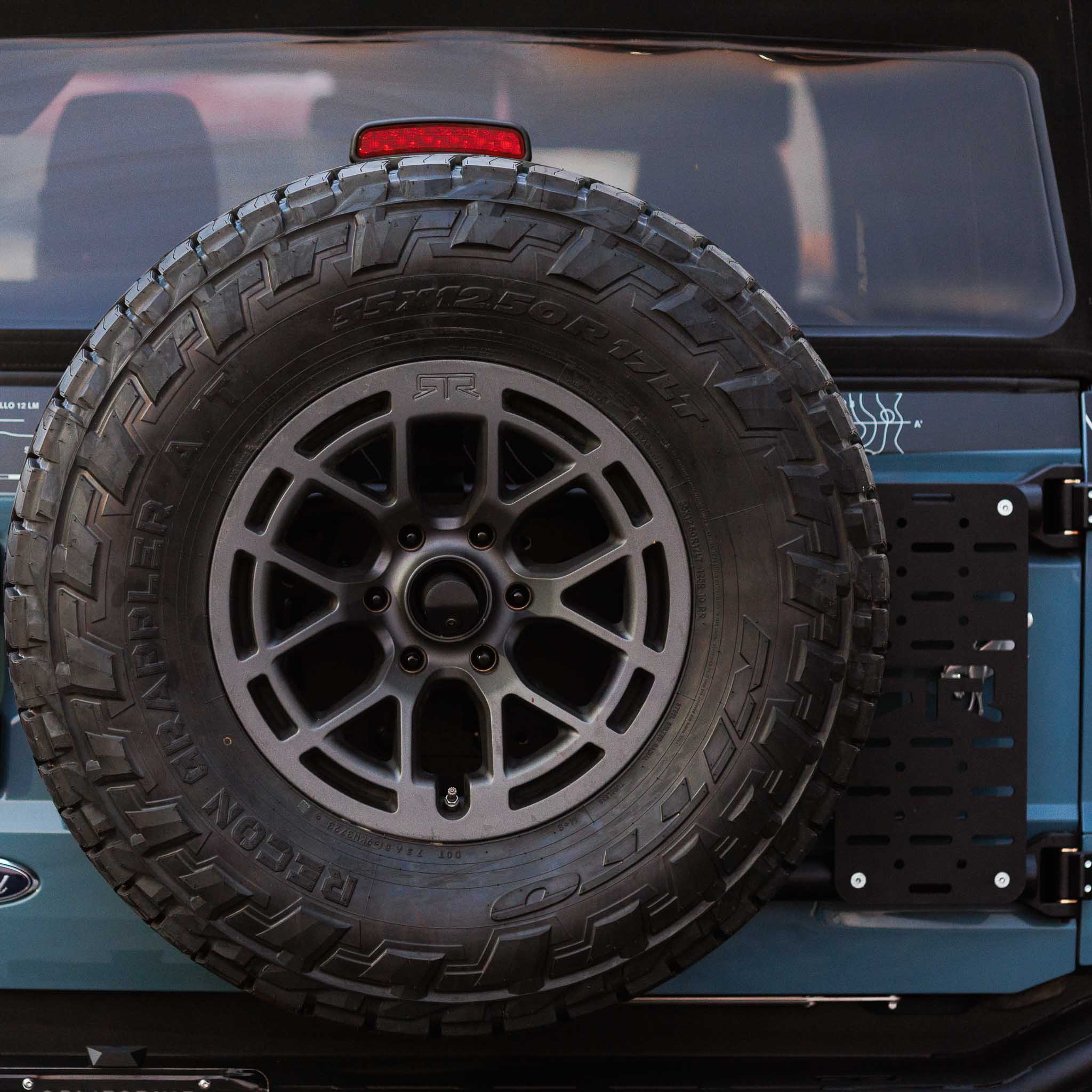 RTR Spare Tire Carrier
On the tailgate of the Bronco RTR ROVR, you'll find the RTR Spare Tire Carrier and Molle Accessory Plate.  This setup allows for additional mounting locations for an off-road jack, jerry can, or any accessories that you may need on your journey.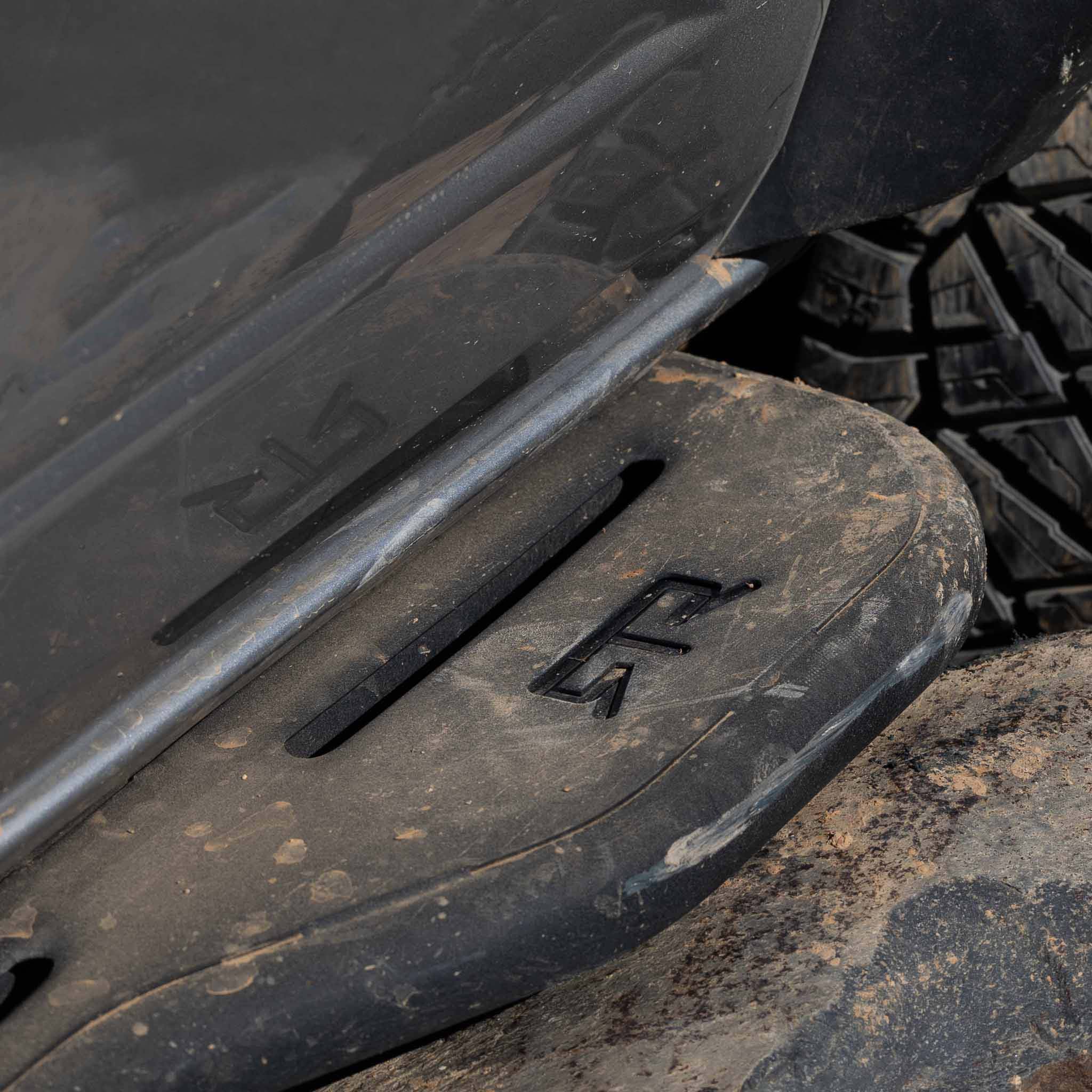 RTR Rock Sliders
RTR Rock Sliders are built to perform under the most rigorous conditions, adding a functional lift point and 4-inch steps to your Bronco. Bronco RTR Rock Sliders feature a 7-inch rear kick-out that helps you slide across larger obstacles and doubles as a step to help you reach your gear mounted on your roof.
Elevate Your Off-Road Experience
You never leave for an outdoor trip without the proper gear, that's why the Bronco RTR ROVR is equipped with 35-inch Nitto Recon Grapplers and 17-inch 12.5x35 RTR Tech 6 wheels. There are two wheel color options to choose from, Satin Black or Satin Charcoal. Non-Sasquatch-equipped Ford Broncos will have the RTR Billet Spacer Lift installed which will increase ride height by 2 inches.
Tread on any terrain with Nitto Recon Grapplers. We chose the Recon Grapplers because they combine superior off-road capabilities, without compromising on-road driveability.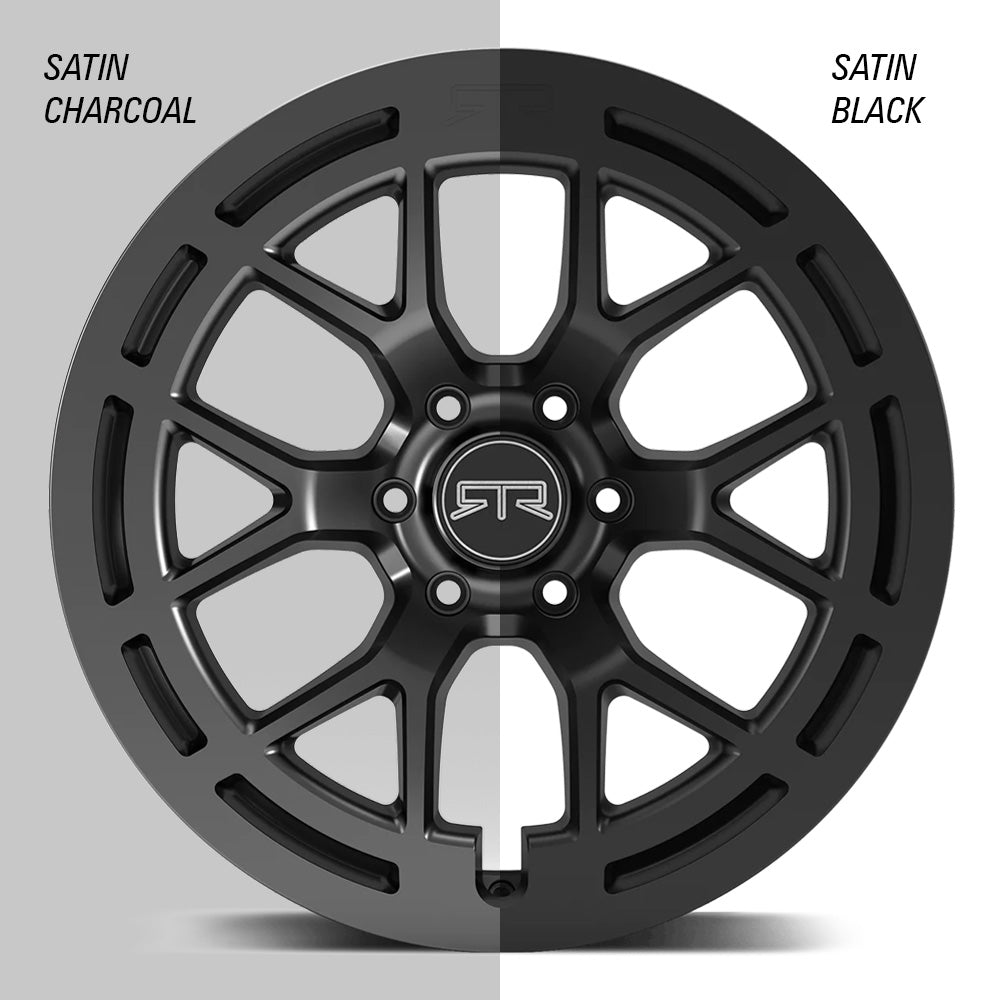 Equipped for the trails ahead
RTR Tech 6 Wheels
Hub-centric design
Available in both Satin Black and Satin Charcoal
Flow Forming Technology - Manufactured for weight savings & strength.
OEM Lug nuts not compatible, use of Tuner Style Lug nuts Recommended
RTR logo on Bronco wheel matches wheel color
Nitto All-Terrain Tires
All of the RTR Tech 6 wheels are equipped with Nitto All-Terrain Tires (35/12.5R17).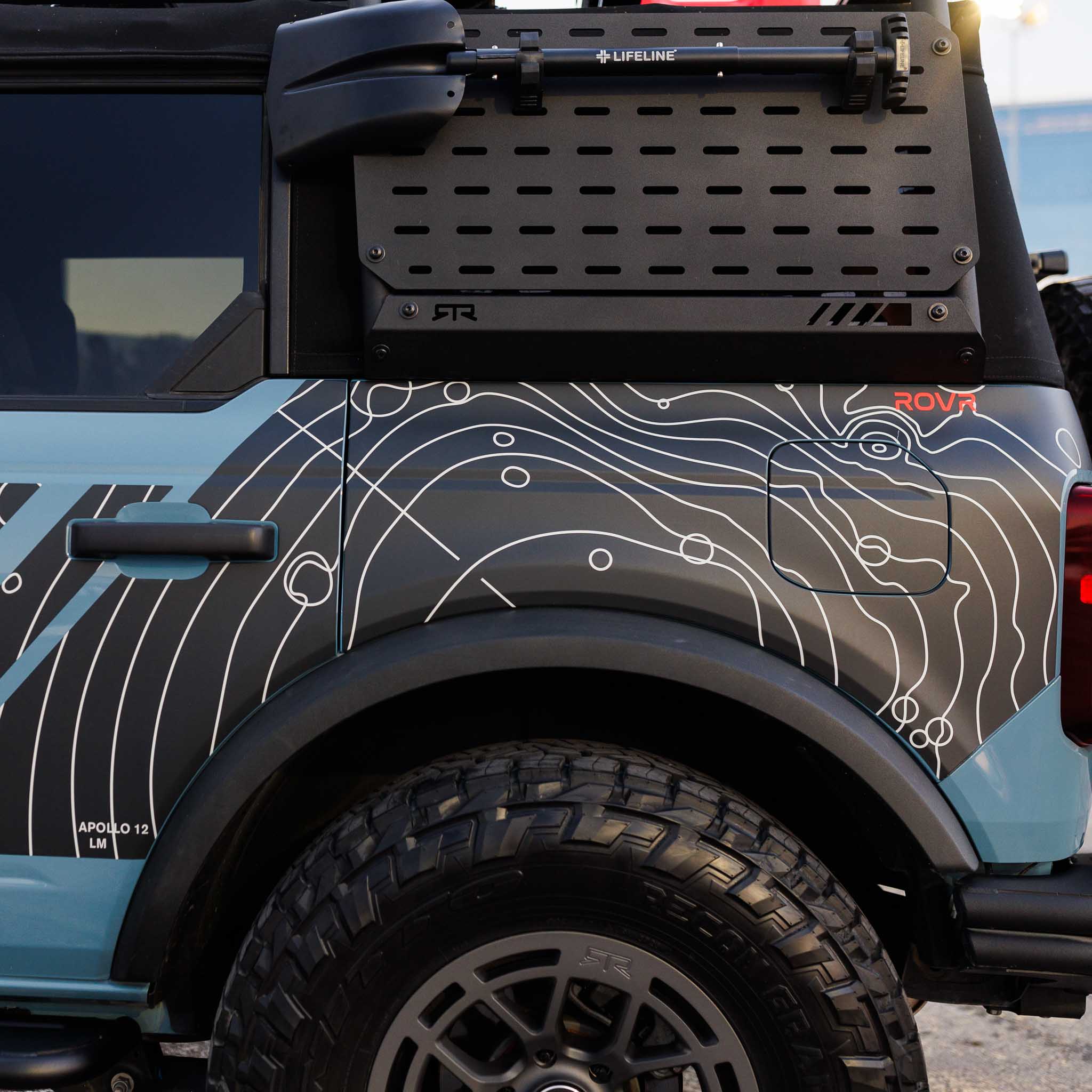 Extraterrestrial Surface Contour Graphics
The ROVR Graphics package consists of topography from different space exploration missions throughout history. The hood and a-pillar graphics are inspired by the first Mars Exploration Rover mission, Mars Pathfinder. The Sojourner Rover landed in a river basin called Ares Vallis. The topography of Ares Vallis is adorned on the hood and a-pillar graphics.
The driver-side and tailgate graphic features the mission plan and topography of a crater that was explored during Apollo 12 in 1969. While the passenger side is inspired by Opportunity. Opportunity was a Mars rover that defied all projections and lived actively for 14+ years, which exceeded its life expectancy by 57x. It collected and analyzed samples that helped prove water was once on Mars.
Rounding out the ROVR's Graphics Package, the tailgate graphic shows the depth of a crater surveyed on the Apollo 12 Mission along with the flight path of the Apollo 12 Lunar Module.
Build Your Bronco RTR ROVR
*NOTE: Pricing shown includes parts only, labor may vary. Contact RTR or your local dealer for more information. All Internet prices do not include TAX, TAG, TITLE, REGISTRATION and DEALER FEES. The vehicle photos displayed may be examples for display purposes only. Pricing throughout this website may not include options that might have been installed at the dealership. The total price of the package includes RTR parts only. The base vehicle is not included.